Affiliation
Dewan P. N. Chopra & Co. is a foundation member / an independent member of the Leading Edge Alliance – LEA Global.
Founded in 1999, LEA Global is the second largest international association in the world, creating a high-quality alliance of more than 220 independent firms from over 106 countries focused on accounting, financial and business advisory services. LEA Global does what a Big 4 firm can't—provide personal business relationships within a global alliance of independently owned, entrepreneurial firms.
Our unique alliance enables us to maintain our independence, while working together with many of the leading professional services firm across the world to provide the ultimate in client service.
To read more about the power of LEA Global, visit https://leaglobal.com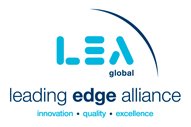 LEA Introductory Video